[Archived version] Complete guide to Japan's mobile plans! Mobile companies and rate plans for foreigners
This site uses an affiliate program to promote products.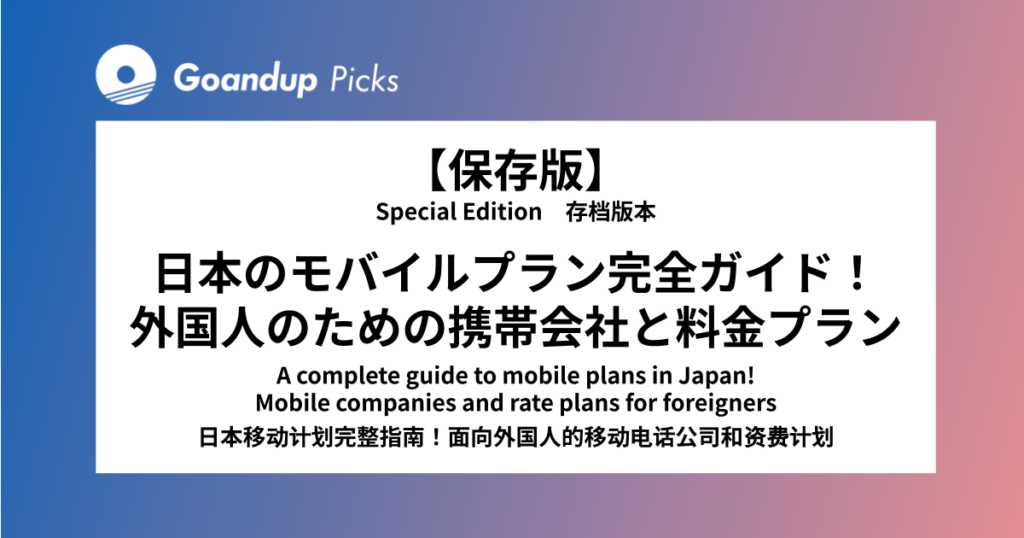 There are many mobile carriers in Japan, each offering various plans and services. For foreigners living in Japan, this abundance of options is very attractive, but at the same time, you may be confused as to which plan, carrier, or SIM card to choose.
This article is a complete guide to Japan's mobile plans, providing detailed explanations of recommended mobile companies and price plans in Japan. Information to help foreigners smoothly sign a mobile phone contract in Japan, including things to keep in mind when signing a contract, pricing structure, advantageous benefits information, and even FAQs that resolve questions and concerns that foreigners often have. I have summarized it in an easy-to-understand manner. Please use this guide to make your communication life in Japan more comfortable.


★ Click here for popular articles on Goandup Picks▼
Introduction to Japan's major mobile carriers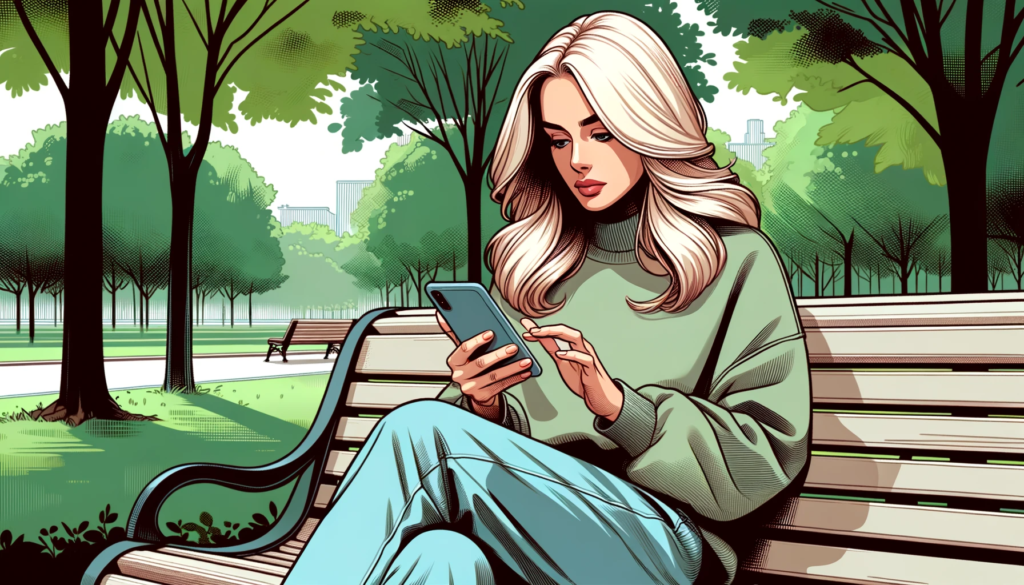 Japan's mobile communications market is made up of three major carriers and numerous low-cost SIM providers called MVNOs (Mobile Virtual Network Operators). Here, we will explain the characteristics and strengths of each.
3 major carriers
docomo

Features: This is the first carrier to start service in Japan. We provide a reliable communication environment not only in urban areas but also in rural areas.
Strengths: A rich lineup of devices. It has a wide range of international roaming services, making it easy to use when traveling abroad.

au (KDDI)

Features: It is known for its high-speed data communication and advanced terminal handling. It is characterized by stable communication quality over a wide area within Japan.

Strengths: It is rich in original entertainment content such as music and video distribution services.

SoftBank

Features: Our customer-oriented services and campaigns are attractive. We provide stable, high-speed communications throughout the country.
Strengths: We have many special plans and campaigns for students and families. We also carry a wide range of Apple products.
MVNO (cheap SIM provider)
MVNO refers to a company that uses a major carrier's network to provide communications services under its own brand.
Our prices are lower than those of major carriers, and we offer plans to suit a variety of needs, including short-term contracts and data communication-only SIMs.
Representative MVNOs include Rakuten Mobile, Y!mobile, and UQ Mobile.
Basics of price plans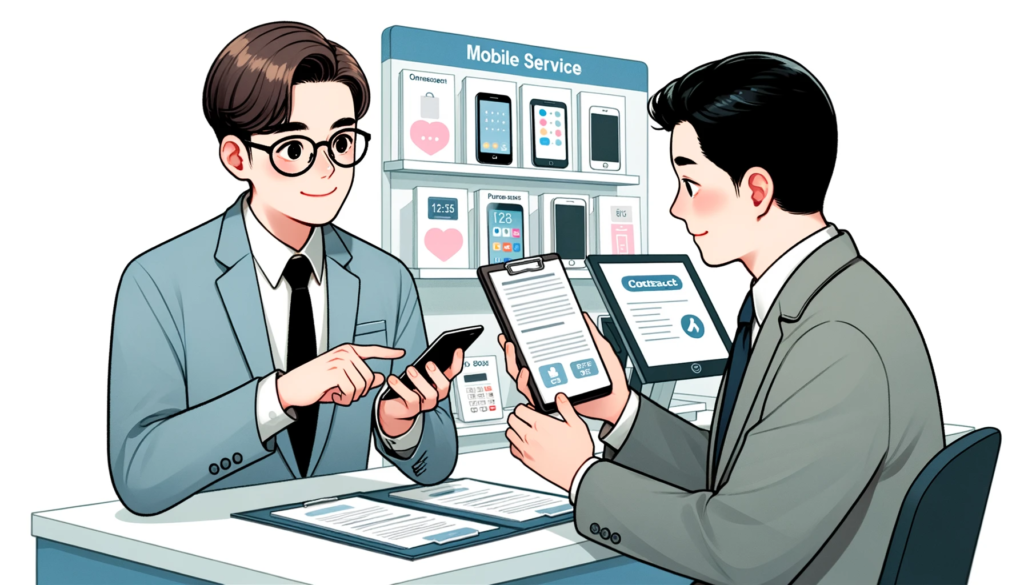 Japanese mobile companies offer a variety of rate plans to suit various usage scenarios and user lifestyles. Here, we will introduce its basic configuration in detail.
Basic charge
Monthly basic fee

This is the basic cost of using a mobile phone or smartphone. Data communication charges and call charges are generally added to this fee.
Data communication fee
Packet flat rate system

This plan allows you to use data communication for a fixed monthly fee. Multiple plans are available depending on data usage.

Pay-as-you-go

This plan charges you based on the amount of data you use. Suitable for people who only use a small amount of data.
Call charge
Flat rate calling plan

This plan allows you to use a certain amount of talk time for a fixed monthly fee.

Metered calls

This plan charges you based on the time and number of calls you make.
Main special plans
family plan

This is a plan that discounts call and data communication charges between family members, and is a good deal if all family members use the same carrier.

Student discountplan

This is a discount plan aimed at students and young people. Target age and conditions vary depending on the carrier.

senior plan

This is a discount plan for people over a certain age, and the basic charges and call charges are often lower.

Wi-Fi set plan

This is a plan that offers a discount on charges by contracting for a set of home fixed broadband (e.g. optical line) and mobile communications.

First contract discount

This is a plan where the first month's fee is free or discounted when signing a contract with a new carrier.

Long term contract discount

This is a plan where you can get a discount on the monthly fee by signing a contract for a certain period or longer.

Discount for switching to other companies

By switching from another carrier, you can receive discounts or benefits on your monthly charges for a certain period of time.

Data sharing plan

This plan allows you to share one data communication capacity with multiple devices (e.g. smartphones and tablets).
Enrich your life in Japan! 10 recommended mobile companies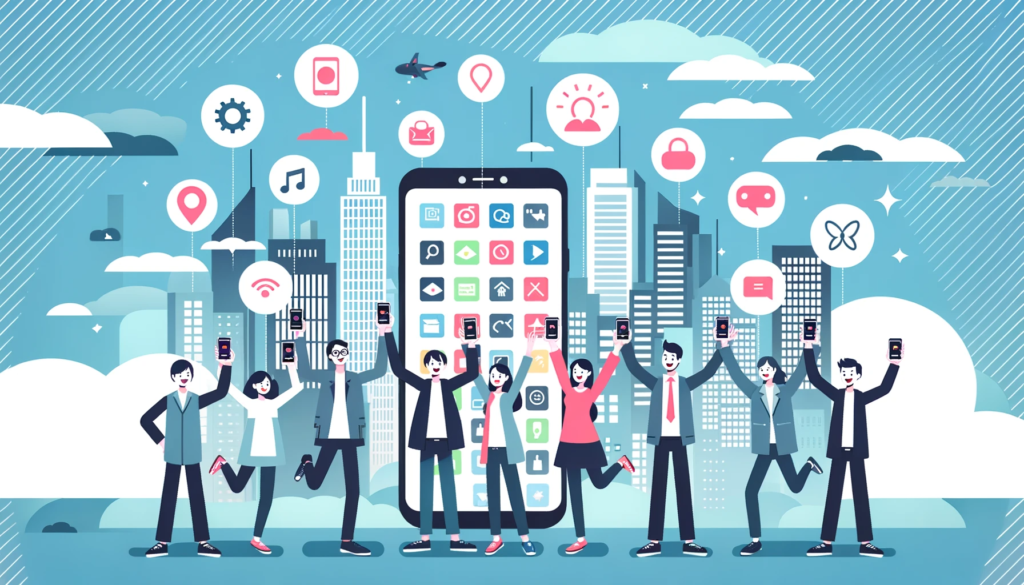 In order to support a comfortable life in Japan, it is very important to choose a mobile company that is reliable and offers a wide range of services. here we Goandup PicksBased on our many years of experience and the voices of many users, we will carefully select and introduce mobile companies especially recommended for foreigners. These companies are highly rated in many aspects such as service quality, price plans, and support systems, and are safe for foreigners to use. Find the best mobile company and make your life in Japan even more fulfilling!
1. J:COM Mobile: Cheap smartphones and cheap SIMs starting from 980 yen per month are attractive!
Are you looking for a cost-effective smartphone or SIM card?"J:COM Mobile"If so, just a littleStarting from 980 yen per month (1,078 yen including tax)It is offered at an amazing price. The fact that 1GB of data can be used for the same price of 980 yen is truly a price break.
Especially in combination with other services,5GB data is 980 yen per monthDon't overlook the fact that you can use it from anywhere, and that you can communicate at up to 1Mbps even if you exceed your data traffic limit. It supports au's 5G/4G LTE, so you can enjoy comfortable communication anywhere in the country. Another attractive feature is that you can switch from another company without changing your phone number or device.
In addition, we have extensive support, including easy online procedures and a call center available 365 days a year.J:COM MobileThere are many campaigns and benefits that are exclusive to online applications, so you will be able to use the service at even better prices.
Click here for details▼
Official site:Great value smartphones [J:COM MOBILE]
2. Rakuten Mobile:Incredible value for a smartphone!
High-speed data communication available throughout JapanunlimitedAlthough it can be used withMonthly fee: 2,980 yen (3,278 yen including tax)The surprising price is attractive."Rakuten Mobile". Furthermore, there is no initial cost at the time of contract, and there is no contract cancellation fee. Of course, there are no contract period restrictions, so even foreigners can easily start using the service.
Additionally, if you use Rakuten's unique Rakuten Link app, you can make unlimited domestic calls for free. moreover, rakuten mobileWhen you useRakutenPoints you can earn when shopping atUp to 3xTo! This is a great benefit that only Rakuten can provide.
A new mobile liferakuten mobileLet's get started!
Click here for details▼
Official site:[Rakuten Mobile]
3. ahamo: A simple plan that condenses what you want!
Have you ever felt confused when choosing a smartphone plan?"ahamo"is a simple one-plan plan launched by Docomo, one of the three major carriers, that accurately captures the needs of users. For only 2,970 yen per month, you get an amazing 20GB of data and 5 minutes of free domestic calls. Furthermore, for those who want to use a lot of data, "ahamo large serving"Now, you can use up to 100GB.
And since it uses docomo's high-quality 5G/4G (LTE) network, the area and communication stability are excellent. Regardless of the time of day, you can always enjoy a comfortable internet environment.
You can complete online procedures 24 hours a day, so you can easily and quickly sign a contract even when you're busy.ahamoTake the first step to start a new smartphone life!
Click here for details▼
Official site:ahamo
4. Excite Mobile: The cheapest SIM in the industry that you can choose according to your usage!
"Excite Mobile"is a mobile service operated by BB.excite, which has 19 years of experience in the broadband business. The best feature of this service is Industry's lowest levelThere are two pricing plans that you can choose from depending on your usage.
The first "Fit Plan" isTiered pricingSo it's a reasonable plan where you only pay for what you use. The second "Flat plan" is Flat rate systemTherefore, the monthly fee is fixed, making it perfect for those who want stable usage.
Another big appeal of this service is that you can use up to 5 SIM cards with one contract.excite mobileis highly recommended for families, those who plan to use it on multiple devices, and those who value saving.
Click here for details▼
Official site:[Industry's lowest level cheap SIM] Excite Mobile

5. Y!mobile:A hassle-free mobile contract that can be delivered in as little as 5 days.
This is the perfect choice for those who want to save money on their monthly mobile bill."Y!mobile"is. New contract or from another company Y!mobileWhen you transfer toMaximum cash back of 20,000 yenYou can receive great benefits.
You can either buy a new device or sign a SIM-only contract. Either method will give you the maximum return Y!mobileThis is the charm of Moreover, No need to visit the storeSo no waiting time! No matter where you are in the country, you can sign a contract just by completing the online procedure, and your new device will be delivered to you in as little as 5 days.
Of course, if you have any questions, you can easily consult us through our website, so you can use our services with confidence.
Click here for details▼
Website:young mobile(Y!mobile official dealer)
6. NURO Mobile:Simple & easyNaCommunication service!
Foreigners, do you know about SONY, a brand representing Japan that is expanding internationally? The hot new service provided by SONY "NURO Mobile"is.
NURO MobileIf so, the month of start of use isMonthly basic fee is 0 yen! Call charges are half price, and there are no cancellation fees, MNP transfer fees, or any other charges that you may be concerned about. Additionally, data capacity can be carried over to the next month, so you can use data without wasting it each month.
Furthermore, it utilizes AI technology developed by the Sony Group to maximize communication efficiency. We guarantee smooth communication. Discount on basic monthly fee for 6 monthsWe are also running a campaign that will make you happy.
For those who are considering a second smartphone or are looking for a simple and cost-effective communication service,NURO MobileLe is recommended!
Click here for details▼
Website:NURO Mobile
7. LIBMO:Connect! fast! high quality!
Wouldn't you like to save money on communication charges without compromising on quality? Make that wish come true "LIBMO"Also recommended.
The attraction is the 20GB planIndustry's lowest price1,991 yen! Furthermore, a 30GB plan is also available at 2,728 yen, a price rarely seen on other MVNOs or major carriers. Also, most major carrier plans only have 20GB, LIBMOoffers a wide range of plans from a small capacity of 1GB to 30GB to suit your lifestyle and needs.Plans can be changed freelyis.
We are confident in the stability of communication! actual, LIBMOIn a unique survey, 93.4% of users were satisfied with the communication speed and connection status. Regarding support, we provide detailed support from online chat to telephone support. For those who want to reduce communication charges but also want to maintain quality, LIBMOis the perfect service.
Click here for details▼
Website:20 giga 1991 yen (1810 yen excluding tax) [LIBMO]
8. Mobile for everyone: Get a smartphone without any inspection!
Foreigners, have you ever had the experience of not being able to pass the screening at a major carrier? What is recommended for such people is "Mobile for everyone". You can easily have a smartphone in your own name without any screening.
Mobile for everyoneis over 18 years old as long as you have an ID and a bank account.Anyone can sign a contract. Another great feature is that it can be used at a lower cost than expensive rental smartphones.
All plans come with unlimited calling, and communication uses the reliable Docomo network, so you can rest assured of connection quality.
Click here for details▼
Website:[Mobile for everyone]
9. Otegaru Mobile: Anyone can sign up with no screening required!
The following"Otegaru Mobile"You can easily sign a contract with no screening required. Those who are unable to contract a smartphone with a major carrier for various reasons use rental smartphones, which have a high monthly fee. Smartphones are needed not only for daily communication, but also for various situations such as getting a job or renting a house, and life is impossible without them.
thisOtegaru MobileWith just an ID and a bank account, anyone can easily obtain a smartphone in their own name, and enjoy convenient services with unlimited calling at low rates and on the stable Docomo network.
Those who are currently struggling with the high costs of renting smartphones, or those who find it difficult to sign a contract with a major carrier. this "Mobile for everyone"or"Otegaru Mobile"Use your smartphone more economically and with peace of mind.
Click here for details▼
Website:[Otegaru Mobile]
10. Sun Cisco:Hybrid of rental mobile phone and MVNO cheap SIM
For those who have been blacklisted and find it difficult to contract with major carriers or low-cost SIMs, we offer a service that will bring light to your life."Sun Cisco"is. Amazing track record, supporting 15,000 people in 8 years.
Sun Ciscostarts out as a rental phone, and after 6 months you can switch to a cheap SIM line in your own name, and of course there is no contract review. And the initial cost is low, and there is no device rental fee for the first 6 months! After that, you will receive a device as a gift, and there is no need to return it when canceling your contract.
As a campaign for the first contract,Providing iPhone and Android devices for just 1 yen. There are a variety of payment methods to choose from, from bank transfer to convenience store payment, so you can choose one that suits your lifestyle and situation. Also, online application can be completed in 5 minutes! If you pay the initial fee, the product will be delivered as soon as the next day.
Click here for details▼
Website:[Rental mobile MVNO Sansyscon]
【Extra edition】"Mobile insurance" to help you live a mobile life in Japan with peace of mind
Smartphones and tablets are essential tools for daily life, work, and communication in Japan. However, repair costs due to sudden breakdowns or accidents can be expensive. The only insurance that protects your precious smartphone from such risks is "Mobile insurance"is.
700 yen per monthmobile insurancecovers all devices that can be connected to Wifi, such as smartphones, tablets, laptops, and game consoles, and eliminates repair costs.Guaranteed up to 100,000 yenHe will do it for you. Surprisingly, one contract covers up to three devices, Only 234 yen per unitIt is a good value for money. Even if you change the model or perform MNP, you can easily change the registered device, so your latest device is always protected.
Furthermore, you can receive high-quality repair services cashless at affiliated repair shops. Also includes authorized service providers for Google Pixel. Many foreigners do not know the exact cost of smartphone repair in Japan, but with this insurance you can enjoy your mobile life with peace of mind.
This is recommended for those who are starting to live in Japan, those who are already using other compensation services such as mobile carrier compensation or Apple Care, and those who have many mobile devices.mobile insuranceis highly recommended. This is the perfect choice for those looking for peace of mind and cost performance.
Click here for details▼
Website:Full repair cost guarantee [Mobile insurance]
Points to note when signing a contract for foreigners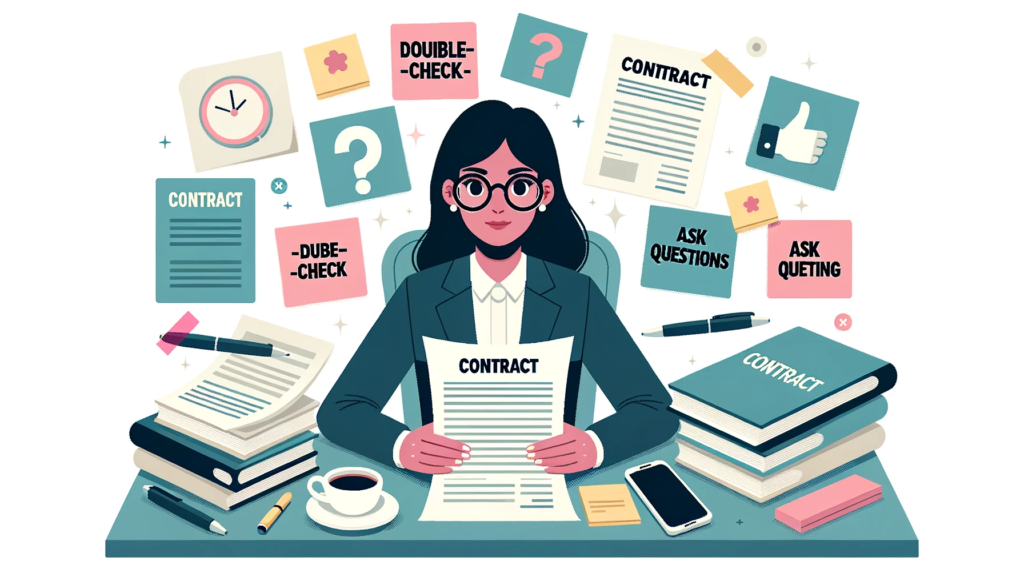 There are some unique procedures and required documents for foreigners when signing a mobile phone contract in Japan. Below is a list of major points to keep in mind when foreigners sign a contract.
Necessary documents and identification
Residence card

It states the qualification and period of stay in Japan, and is required by most mobile companies when signing a contract.

passport

Especially for short-term residents, it is often required as identification.

Japanese address

Many mobile companies require a Japanese address. Some carriers may accept hotel or temporary addresses, but it's important to check beforehand.
Notes on residence card expiration date and contract period
Contract period

Mobile companies generally have two-year contracts, but if your residence card is valid for less than two years, you may need to sign a contract that covers that period.

Precautions when updating

When you renew your residence card, you are required to promptly report it to your carrier. Please note that forgetting to renew may result in contract cancellation or penalties.
What to do if you don't have a credit card
debit card

Unlike a credit card, a card can only be used as long as there are actual funds in the account. Many mobile companies also accept debit card payments.

Account transfer

Payment method is automatic monthly withdrawal from a bank account in Japan. If you have an account, you can use it with most mobile companies.

bill payment

With some mobile companies and plans, you can choose to pay your monthly usage fee by invoice, which can be done at convenience stores, etc.
Don't worry about data limits! Japan's Wi-Fi environment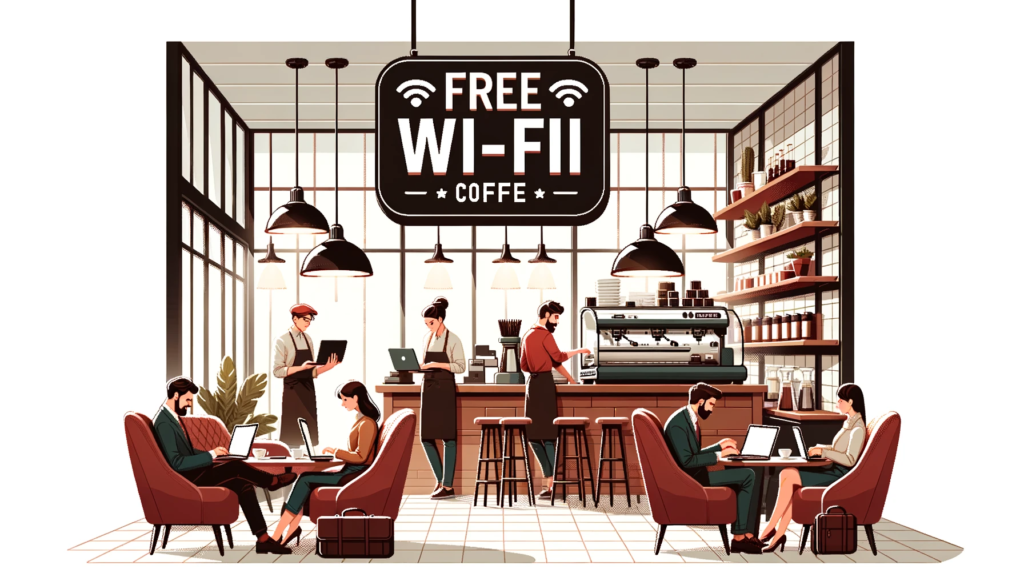 Many people may be worried about whether they will have enough data depending on their rate plan. In Japan, there are various Wi-Fi options available to comfortably use the Internet without worrying about your mobile data usage. We recommend the following Wi-Fi environment to use your smartphone or tablet without waste.
Free Wi-Fi access points in urban areas
public facility

Free Wi-Fi is available in many public facilities such as city halls, libraries, and community centers.

Shopping mall

Free Wi-Fi spots are available at major shopping malls and department stores.

Cafe & Restaurant

In addition to major chain stores such as Starbucks and McDonald's, an increasing number of local cafes and restaurants are also offering Wi-Fi.
Home Wi-Fi
fixed line

If you are mainly thinking about using it at home, we recommend a fixed line contract such as optical fiber or ADSL. You can enjoy fast and stable connection.

Mobile Wi-Fi router

A mobile Wi-Fi router is ideal for those who need an Internet connection anywhere, whether at home or outside. It is useful in a variety of situations because it can be used on multiple devices and is easy to carry. Additionally, your mobile company may offer a set plan with a mobile phone contract.
▼Pocket WiFiIf you are looking forrecommendation!
FAQ regarding mobile contracts in Japan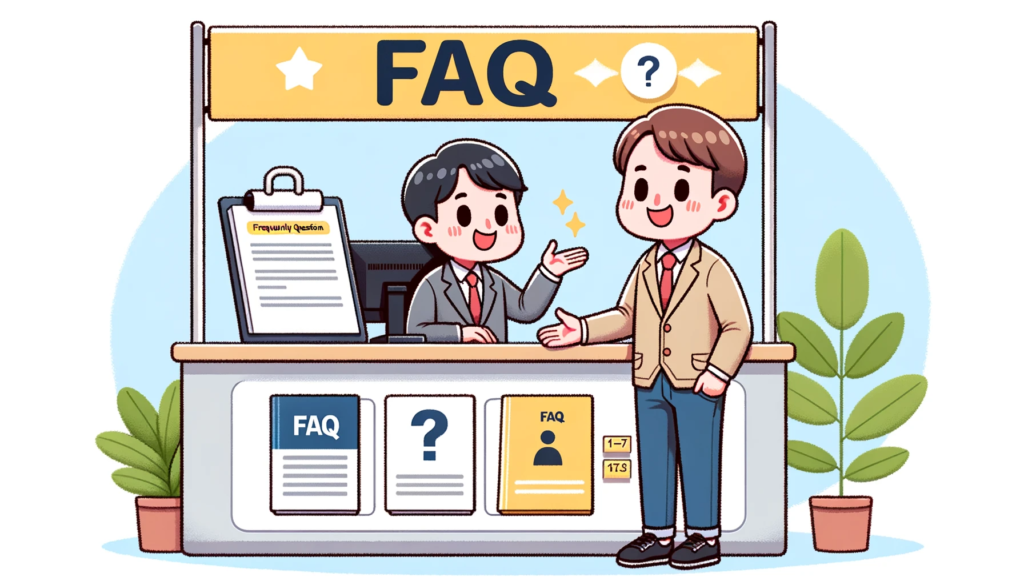 There are many concerns and questions about signing a mobile contract in a new country. Here we will discuss and answer questions that foreigners often have regarding mobile phone contracts in Japan.
Q1: What documents are required for a mobile contract in Japan?
A1: Mainly, you will need a residence card, passport, and documents proving your address in Japan (e.g. a copy of your residence card).
Q2: Can I continue to use my smartphone in Japan?
A2: Yes, but it is important to check in advance whether your smartphone is compatible with Japan's mobile network. In particular, check that the frequency and band you are using are correct. Also, carriers in some countries have SIM-locked smartphones. Before using a Japanese SIM card, if it is locked, you need to unlock it.
Q3: What should I do if I want to leave Japan during the contract period?
A3: If you cancel your contract midway, there will often be a penalty charge. However, some mobile companies and plans offer temporary suspension services during long-term stays overseas, so please check with each mobile company.
Q4: What is the service area of ​​Japanese mobile carriers?
A4: In general, all carriers have coverage in large cities and along major transportation routes. However, the scope of application may vary in areas such as mountainous areas and remote islands, so we recommend checking the official website of each mobile company for specific area information.
Q5: Are call charges and data usage charges high in Japan?
A5: Compared to other countries, call charges and data usage charges in Japan may seem a little high. However, there are a variety of plans and campaigns available, so by choosing a plan that suits your usage style, you can use the service without wasting any money.
Mobile plans in Japan: A complete guide for foreigners
When starting your life in Japan, choosing among the many mobile companies and rate plans may seem difficult, especially for foreigners. Japanese mobile companies have their own characteristics in terms of rate plans, service content, communication speeds, area coverage, etc.
When starting a new telecommunications service in Japan as a foreigner or switching services, it is important to understand the characteristics and strengths of each mobile company and choose the one that best suits your usage situation and lifestyle.
Please use this guide to enrich your communication life in Japan.


prepaid sim cardIf you are looking for , click here▼!
---
We at "Goandup" will continue our activities to convey the charms of Japan to the world.
If you found this article helpful or enjoyed it, please support us by supporting our operations.
We would appreciate it if you could donate any amount using the PayPal link below.
▶️ paypal.me/goandup
---