The best exchange experience in Japan! Matching app & room sharing complete guide
This site uses an affiliate program to promote products.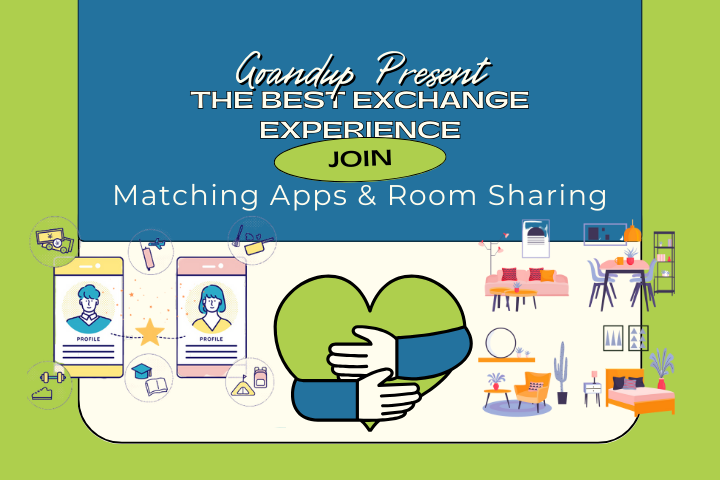 Living or staying in Japan for a short period of time is all about seeking new opportunities for interaction. Matchmaking apps and room sharing are the keys to enriching your experience in Japan.
In this article, for foreigners who want to experience real life in Japan, we will provide a complete guide to matching apps and room sharing that will help you have the best socializing experience in Japan.
▼Goandup Picks Click here for popular articles
★Learn about "Matching App & Room Sharing" in the video!
A complete guide to matching apps for foreigners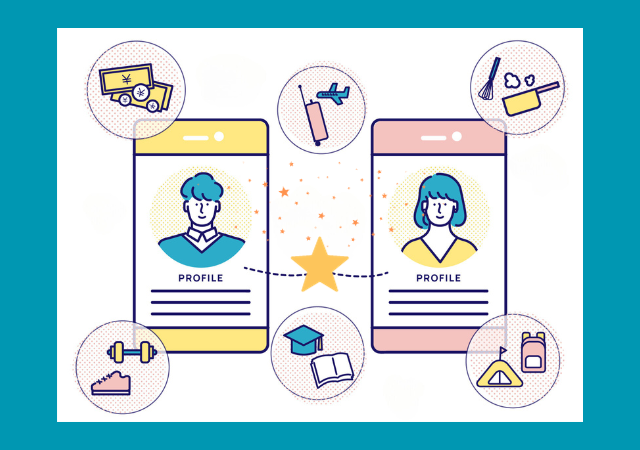 The appeal of Japanese matching apps
It's natural to seek out new friends and cultural experiences while visiting or staying in Japan. Matching apps are an effective tool for creating new encounters in everyday life and easily facilitating cross-cultural exchange. Especially for short-term visitors or people who are having a hard time adjusting to a new environment, sharing information and interacting in Japan can be the basis for a stable life in a new environment.
Matching app usage points
Matching apps are easy to use and often free to access. In addition to being multilingual, it also has many features to help you meet new people in Japan, such as the ability to find users near your current location using location information services, and user recommendations based on your hobbies and interests. Masu. Additionally, you can obtain information on events and meetups, allowing you to create opportunities for real-life interaction.
It also has various functions to meet diverse needs. For example, there are features that allow you to share local information in real time, and security features to keep users safe. This allows users to use the app with peace of mind.
Japanese matching app for foreigners
There are many matching apps in Japan that are recommended for foreigners. These apps can be used for a variety of purposes, including language exchange, cultural experiences, and attending local events.
HelloTalk

This is an app that focuses on language exchange. You can learn practical Japanese language through daily communication with Japanese people.



Tandem

It is a platform where you can learn languages ​​while receiving feedback from professional teachers. You can learn more deeply.



MeetUp

This service allows you to create and join groups based on your hobbies and interests, allowing you to deepen your interactions locally.



Bumble

An app that can be used for multiple purposes, including making friends, building a business network, and dating. We respond to a wide range of needs.



JapanCupid

A matching service specialized for foreigners looking to meet Japanese people. Popular with people interested in Japanese culture and language. This service is perfect for people who want to deepen cultural exchange.



Tinder

One of the matching apps that boasts international recognition. It is also used by many foreign users in Japan. It is also very popular among foreigners staying in Japan.
Complete guide to room sharing for foreigners, especially international students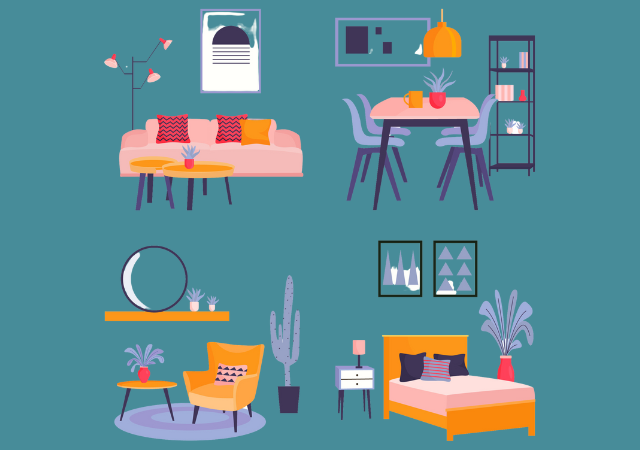 Japanese culture experience through room sharing
Rent and living expenses when living alone in Japan are often quite a burden. To make your stay in Japan economically and culturally attractive, room sharing is the best option. Freed from high rents especially in urban areas, it can be used on a daily basis as a place for cross-cultural exchange.
Also, the biggest benefit of room sharing for international students is that it increases opportunities for cultural exchange. You can improve your Japanese language skills by communicating with your Japanese roommates in your daily life, and you can also share the culture of different countries by sharing a room with other international students.
The secret to success in sharing a room in Japan
The key to successful room sharing is communication. Living with people who have different cultures, lifestyles, and values ​​can be challenging, but by clarifying the rules and sharing values ​​and expectations in advance, it is possible to live together smoothly. Also, respecting your privacy is very important. Even if you live together, you need time and space alone, so by maintaining a balance, you can achieve a richer room sharing life.
Recommended room sharing site for foreign students in Japan
There are many room sharing services in Japan. Japanese room sharing information sites focus on the needs of foreigners, offering multilingual support and safe property information.
【Extra edition】
enjoy direct interaction:Popular events & activities in Japan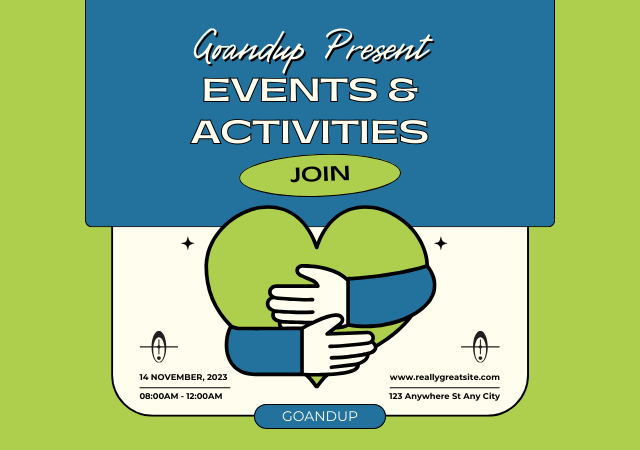 Events and activities that allow face-to-face interaction are an important means of interaction, along with matching apps and room sharing.
traditional japanese events
Japan has many traditional events and festivals. For example, there are seasonal events such as cherry blossom viewing, festivals, New Year's Day, and Tanabata. These events are a great opportunity to deeply experience Japanese culture.
Hanami (cherry blossom viewing):Cherry blossom viewing, which is held all over the country in spring, is one of Japan's beautiful traditions. Ueno Park in Tokyo, the Okawa area in Osaka, and Tetsugaku no Michi in Kyoto are popular cherry blossom viewing spots for foreigners as well.


festival:Festivals are held all over the country in the summer. For example, you can experience local traditions and culture at the Gion Festival in Kyoto, the Kanto Festival in Akita, and the Asakusa Samba Carnival in Tokyo.


New Year:New Year's visits to shrines and temples are held in January. Osu Kannon in Nagoya and Dazaifu Tenmangu in Fukuoka are crowded with visitors during the New Year.
Unique cultural experience activities for each region
Each city has different characteristics and culture. For example, there are unique activities that you can enjoy in each city, such as tea ceremonies and kimono experiences in Kyoto, anime and pop culture-related activities in Tokyo, and takoyaki-making experiences in Osaka.
Kyoto:In the ancient capital of Kyoto, you can enjoy tea ceremony experiences and kimono rentals. Strolling around Yasaka Pagoda and Kiyomizu-dera Temple in kimono is especially popular among foreign visitors to Japan.


Tokyo:You can enjoy activities related to anime and manga at Akihabara, kawaii cultural experiences at Harajuku, and sushi making at Tsukiji.


Osaka:There are many activities to enjoy the charm of Osaka, such as making takoyaki in Shinsaibashi and Namba, exploring the history at Osaka Castle, and enjoying the night view at Tsutenkaku.
Events that deepen interaction between foreigners and Japanese people
Japan also has many social events for foreigners. We offer many opportunities such as language exchange meetups, international parties, and sightseeing tours for expats, and these events are great for making new friends.
Language exchange meetup:Language exchange meetups, which are held regularly in major cities such as Tokyo, Osaka, and Nagoya, are a great way to meet people from other countries.


International exchange party:Groups such as ``Tokyo International Friends'' and ``Osaka Multilinguals'' hold social events on a weekly basis.


Sightseeing tours for foreigners:Sites such as ``Japanican'' and ``Voyagin'' introduce a wide variety of tours and activities for foreigners, and you can easily make reservations.
summary
Through matching apps, you can connect with people with the same hobbies and interests, and room sharing creates a place for daily cultural exchange. Furthermore, traditional events unique to Japan and activities in each city will allow you to deeply experience Japanese culture and history, and exchange events and tours that foreigners can easily participate in will not only help you make new friends but also deepen your understanding of other cultures. You can deepen your Use these information and tools to make the most of your stay and visit in Japan.
---
We at "Goandup" will continue our activities to convey the charms of Japan to the world.
If you found this article helpful or enjoyed it, please support us by supporting our operations.
We would appreciate it if you could donate any amount using the PayPal link below.
▶️ paypal.me/goandup
---