How many types of work visas are there for foreigners in Japan? Explanation of precautions when hiring
This site uses an affiliate program to promote products.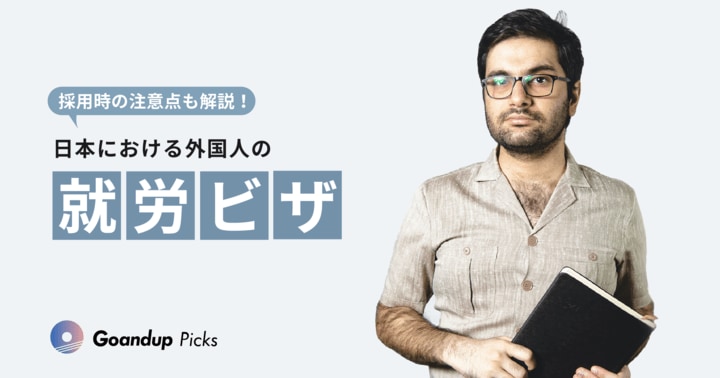 Due to the decline in Japan's working population and the globalization of business, foreign human resources are attracting attention.
There are many companies that want to hire talented people, regardless of whether they are foreign or Japanese.
On the other hand, there are many companies that are unable to hire foreigners because they do not know what is required.
Therefore, this time we will explain the work visas that are required when hiring foreigners in Japan.
If you would like to know more about renewing your work visa, we also recommend the following articles:
[Foreign Recruitment] Procedures required at the Immigration Bureau for work visa renewal
What is a work visa?
Foreigners need a work visa to work in Japan.
"Working visa" is the common name for the status of residence required for foreigners to work in Japan.
Obtaining a work visa means receiving one of the following statuses of residence from the Ministry of Justice: ``I am permitted to work in Japan and receive compensation.''
A work visa is sometimes called a visa, but a work visa and a visa are different things.
A visa is a certificate issued by a Japanese embassy or consulate overseas after checking the passport, etc. held by a foreign national and determining whether it is possible to enter Japan.
A work visa, which is commonly known as a status of residence, is a classification of the status and status that a foreigner can have in order to stay and work in Japan.A visa is a document that a foreigner needs to prove when entering Japan. Although they are similar words, there is a clear difference between a work visa and a visa.
There are 19 types of Japanese work visas.
Currently, there are 19 types of residence statuses, commonly known as "work visas", granted by the Ministry of Justice to foreigners who are allowed to "carry out activities in Japan" as shown below.
diplomacy
Granted to ambassadors and ministers of foreign governments and their families.
Official use
Granted to persons engaged in public service such as foreign governments and their families.
Professor
It is given to university professors, assistant professors, assistants, etc. who are accepted into universities or institutions equivalent to universities.
art
It is granted to lyricists, composers, painters, sculptors, photographers, etc.
religion
Granted to bishops, monks, missionaries, etc.
news coverage
Granted to newspaper reporters, magazine reporters, news photographers, announcers, editors, etc.
Highly skilled professional
There are 1 and 2 types of highly skilled human resources based on a point system.
business administration
Granted to company presidents and executives.
Legal/accounting services
Granted to lawyers, judicial scriveners, certified public accountants, tax accountants, etc. with Japanese qualifications.
medical care
Granted to doctors, dentists, nurses, and pharmacists with Japanese qualifications.
the study
Granted to investigators and researchers at research institutes, etc.
education
Granted to elementary, junior high and high school English teachers.
Skills/Humanities/International Affairs
Granted to IT engineers, science and technology engineers, foreign language teachers, copywriters, interpreters, etc.
Intra-company transfer
Granted to transferees from foreign offices.
nursing care
Granted to caregivers with qualifications such as certified care workers.
entertainment
Granted to actors, musicians, singers, dancers, etc.
Skill
Granted to foreign cuisine cooks, trainers, sports trainers, pilots, etc.
specific skills
Granted to technical intern trainees (skills that belong to a specific industrial field and require a considerable level of knowledge and experience), there are 1 and 2 types.
Technical training
There are two types of technical intern trainees (technical intern trainees accepted from overseas subsidiaries and technical intern trainees accepted from supervising organizations): "technical intern a" and "technical intern b".
Other status of residence
In addition to the 19 types of work visas mentioned above, there are other statuses of residence that allow foreigners to work in Japan.
These are called "permanent residents," "spouses of Japanese nationals," "spouses, etc. of permanent residents," and "long-term residents" who have no restrictions on employment.
With these statuses of residence, there are no restrictions on the type of industry or period of work.
In addition, even people who are basically not permitted to work, such as international students, can work part-time by applying for "activity other than that permitted under the status of residence previously granted."
When hiring foreigners for a company, the most important thing to do is to check whether the work content can be carried out with a working visa stipulated in Japan.
No matter how talented a person is, they will not be allowed to work in Japan unless they have a work visa.
If a company employs a person under conditions that do not match the work visa, the company will also be subject to severe criminal penalties for violating immigration laws.
When hiring foreigners, it is necessary to apply for a work visa.
The process for hiring foreigners is basically the same as the process for hiring Japanese people.
Recruit and conduct interviews. If there are no problems, we will draw up employment terms and conditions and sign a contract.
The difference is that in addition to checking your resume and work history, you also need to scrutinize your status of residence, and the most complicated part is the work visa application procedure.
The required applications will differ depending on the foreigner you want to hire.
Are you currently in Japan? Do you have a residence card? Do you have work qualifications? Is the expiration date of your period of stay less than 3 months? There are four types of applications that each require.
・Application for issuance of Certificate of Eligibility (application is required if you are not currently in Japan or do not have a residence card)
http://www.moj.go.jp/ONLINE/IMMIGRATION/16-1.html
・Application for change of residence status (application required if you do not have a work status)
http://www.moj.go.jp/ONLINE/IMMIGRATION/16-2.html
・Application for extension of period of stay (application required if period of stay is less than 3 months)
http://www.moj.go.jp/ONLINE/IMMIGRATION/16-3-1.html
・Notification regarding affiliated (contracted) institution (apply if the period of stay is less than 3 months)
http://www.moj.go.jp/nyuukokukanri/kouhou/nyuukokukanri10_00015.html
Each application is listed in the link on the Ministry of Justice page above, so if you follow the instructions, there will be no problem.
Advantages and disadvantages of hiring foreigners
Finally, I will briefly introduce the advantages and disadvantages of hiring foreigners.
Advantage 1: Securing a young workforce
Currently, Japan is an aging society with a very low birthrate, and this trend will continue in the future.
The effective job-to-applicant ratio for young people is also high, and all companies are struggling to recruit young people.
Therefore, by hiring foreign workers, you can secure a young workforce from overseas and solve the labor shortage problem.
Advantage 2 Inbound measures
When considering a survival strategy in Japan, it is important to acquire tourists from the upper class of Asia, which is experiencing rapid economic growth.
In the tourism business industry, it is necessary to continuously employ foreign staff to respond to inbound tourists.
Disadvantage 1: Differences of opinion due to cultural differences
Hiring foreigners with different cultures may lead to conflicts with Japanese employees.
It is necessary for both parties to understand each other's culture and customs.
Disadvantage 2: Difficulty in communication due to lack of language skills
It is inevitable that there will be a gap between the Japanese language skills required by companies and the Japanese language skills of the foreigners they hire.
It is necessary to enhance Japanese language training systems, but in the future it will also be necessary for companies to improve their business communication skills in English.
summary
This time, we explained about the "work visa", which is important when hiring foreigners in Japan.
The most important thing is to carefully examine the work visa held by the foreigner you want to hire, follow the appropriate procedures, and hire them.
In Japan, where the declining birthrate and aging population is a serious problem, foreign labor will definitely be needed in the future.
By understanding the points to be careful about when hiring foreigners and actively hiring them, companies can resolve their labor shortages.
Let's hire and educate each and every foreigner.
---
We at "Goandup" will continue our activities to convey the charms of Japan to the world.
If you found this article helpful or enjoyed it, please support us by supporting our operations.
We would appreciate it if you could donate any amount using the PayPal link below.
▶️ paypal.me/goandup
---